Easily tend to a large lawn.
Honda's Premium lawn tractor is one of the best pieces of garden machinery you can own. Cutting, mulching and collecting leaves across a large lawn has been made effortless.
This premium range is a delightful collection of simple yet innovative engineering ideas however, rest assured there is more to them that makes them unquestionably the best. The moment you set eyes on your chosen model you will notice the difference from the seat material to the way the panels fit. All models in this range are also built around a sturdy chassis with a robust cast iron front axle.
Key Features:
Versamow selective mulching: With a single lever, Honda's Versamow™ system will either collect the grass cuttings into the bag or finely shred and blow them down into the lawn to create a natural fertiliser.
Optiflow: A fan powered system under the cutter deck that improves air flow between the cutter deck and the high air flow grass bag. It significantly improves collecting performance of the lawnmower.
Synchronous blade cut: Both blades have an overlapping cutting area to create accurate mowing and avoid any uncut areas when turning.
Find the mower suitable for your lawn.
To help you find the Honda mower for your lawn size, please use the table below as a guide: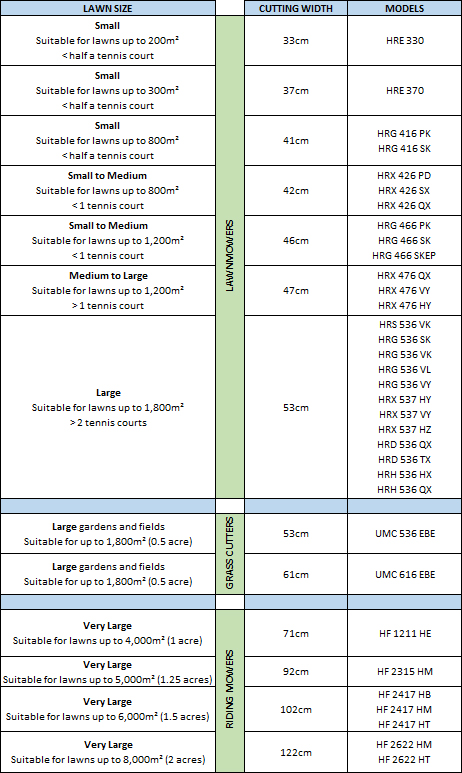 Unrivalled warranty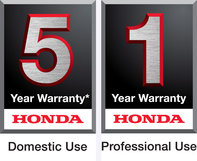 Our products are built better to last longer. That's why we can offer you a rock-solid warranty for domestic and professional use on our core range products, covering both parts and labour. The warranty also maintains the same value throughout the warranty period – meaning the last day of cover is exactly the same as the first.