Advanced technology for your lawn
This HRX lawnmower is ideal for medium to large lawns ( > 1 tennis court) . It is light, powerful and offer easy drivability due to ball bearings fitted to the front and rear wheels.
When you choose to purchase a HRX lawnmower, you're buying over 30 years of development and constant innovation. All of the features found on these lawnmowers are completely customer focused. This range really sets the standard. They are durable, easy to operate and you will see perfect results every time.
Key Features:
Roto-Stop:Stops the blades but leaves the engine running while you empty the grass bag or move across driveways with Self-propelled models.
Auto choke:All of our products are powered by world class Honda engines so you can be assured of reliable starting and low maintenance. All of our lawnmowers run on unleaded petrol.
Versamow variable mulching:With a single lever, Honda's Versamow™ system will either collect the grass cuttings into the bag or finely shred and blow them down into the lawn to create a natural fertiliser or the perfect mix of both.
Low noise: Our R&D team have designed a patented low noise blade (-0.5dB(A)) compared to traditional blades. With a combination of engine and cutter deck design, its noise level is 30% under the current EU standard.
Find the mower suitable for your lawn.
To help you find the Honda mower for your lawn size, please use the table below as a guide: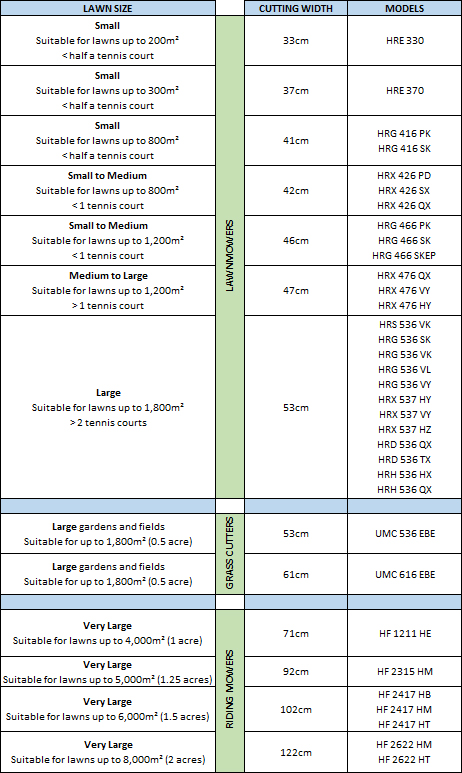 Unrivalled warranty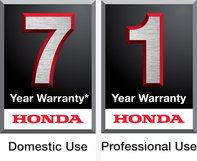 Our products are built better to last longer. That's why we can offer you a rock-solid warranty for domestic and professional use on our core range products, covering both parts and labour. The warranty also maintains the same value throughout the warranty period – meaning the last day of cover is exactly the same as the first.
*Subject to domestic use and following the service schedule