Versatility That Works
At its core, the 4500 is a compact tractor, but it is very different than what most are used to seeing and that is a great thing. The purpose of a tractor is to perform tasks more efficiently, with better results than hand labor. The Ventrac 4500 plays on these advantages, then takes it to the next level. When coupled with the extensive line of Ventrac attachments, this tractor is a great machine for a variety of professional users.
4500 Models
Model
Engine
HP
Cooling
Fuel Type
Cylinders #
Engine Disp.
Weight
4500K
B&S Vanguard
31HP
Air
Gas
2-cyl
896cc
1340 lbs*
4500P
Kawasaki
31HP
Liquid
Gas
2-cyl
824cc
1575 lbs
4500Y
Kubota
25HP
Liquid
Diesel
3-cyl
898cc
1655 lbs
4500Z
Kubota
32.5HP
Liquid
Gas
(Propane Ready)
3-cyl
962cc
1655 lbs
* Does not include optional rear weights & weight transfer which is standard on 4500 Liquid Cooled tractors
Tractor Slope Ratings
Ventrac tractors offer you tested and approved slope operation ratings for safer slope mowing.
4500 with Wheel Extensions
4500 Tractor Standard Features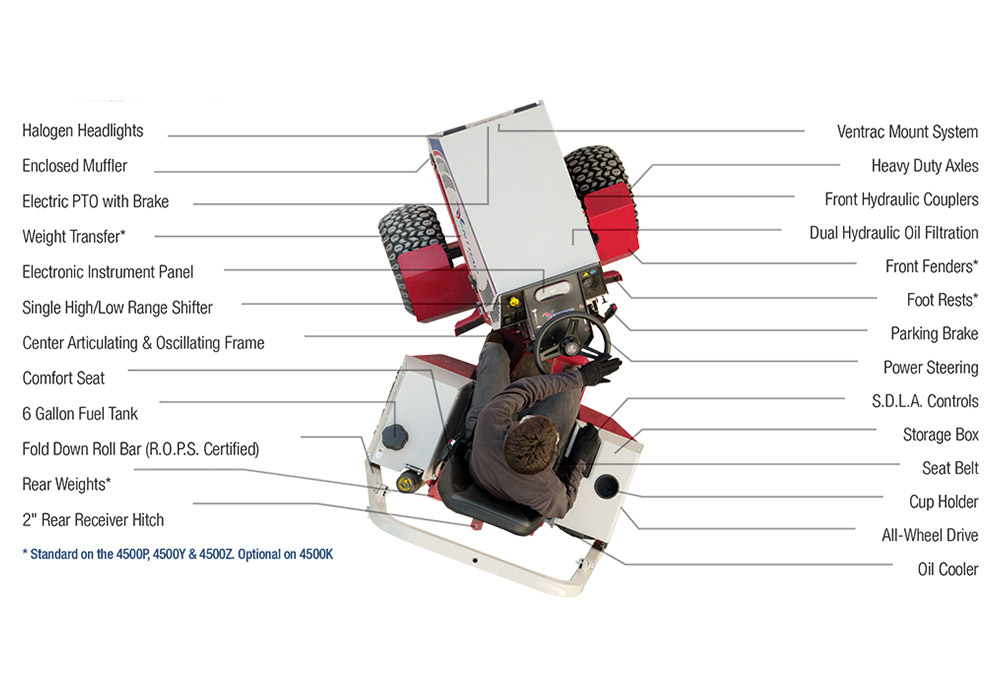 PRODUCT BENEFITS
The unique design qualities of Ventrac has made a world renowned statement for its ability to work on steep slopes. For more details, visit our slope page.

The tractor frame pivots in the center, allowing the rear tires to follow the same path as the front tires. This allows the tractor to easily navigate around obstacles and without damage to the turf.

With a little practice, you can switch almost any attachment within a minute, without any tools or heavy lifting.

Built to handle all snow conditions, from light snowfalls to winter's wrath. Ventrac gives you a peace of mind for easily clearing snow.

Learning to drive a Ventrac is simple and intuitive with the patented S.D.L.A. Controls.

All-Wheel Drive

Full-time, all-wheel hydrostatic drive delivers maximum performance and traction to help you get the job done.

Ventrac isn't a big-box store throw-away tractor. These tractors are built for industrial use with commercial engines, and heavy duty transaxles for reliable performance year after year.

A hydraulically powered steering system provides responsive and effortless steering control.

Better Visibility

Front-mounted attachments let operators see the work out front. This forward thinking design allows for better visibility so operators can work more confidently when close to landscaping, buildings or other objects.

Versatility - Light Footprint

The Ventrac 4500 tractor utilizes large flotation tires on an articulating and oscillating frame to maintain a light footprint and impressive agility. This greatly reduces turf disturbance.

The front and rear frame of the tractor oscillate independently of each other. This allows the tractor to adapt to rough terrain while giving all four tires more consistent contact with the ground.